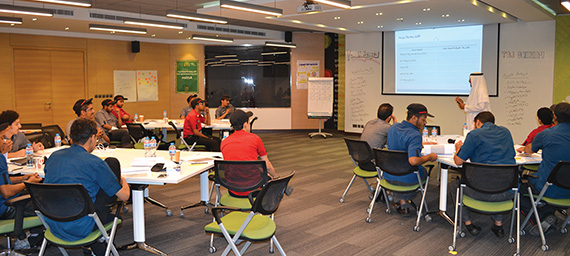 E-learning and training
McDonald's Saudi Arabia concluded a memorandum of understanding with the 'Doroob' program in 2015, a national initiative launched by the Human Resources Development Fund to provide electronic education and training services to employees. This e-learning initiative includes professional electronic training courses delivered in partnership with international universities. Courses include basic job skills such as English, computer and career communications, as well as courses for specific functions such as sales, reception and technical support. The program provides training to apply the skills gained from e-learning through an on-the-job training program with certified trainers, as well as helping employees rise through the ranks.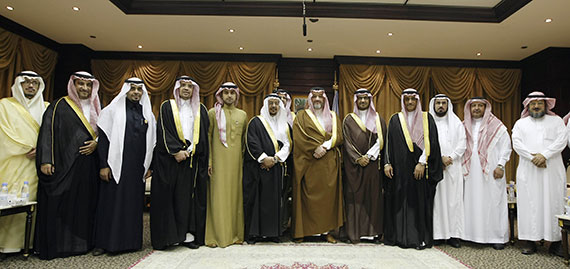 Training of King Saud University students
Over four years, McDonald's has provided training to Community Service students from of King Saud University. This enabled the students to work in any field of their choice, whether in restaurants or management, financial and technical positions. This was in addition to providing training courses in public relations, economics and information technology. The agreement stipulated that the students have priority in employment after the one semester training program.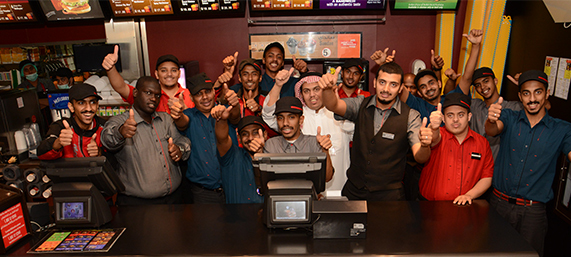 The SAR4,500 campaign
A recruitment campaign launched in November 2012 that offered prospective employees the flexibility in choosing the time and place of work, career development and two days' vacation a week. And most importantly, the employee's salary would begin at SAR4,500.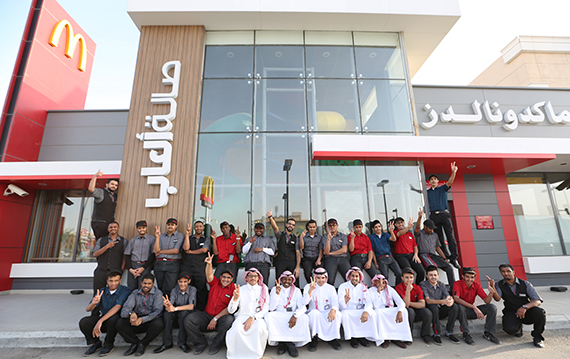 The SAR5,000 campaigns
In the Central, Eastern and Northern areas
Based on a basic monthly salary of SAR4,000 with a SAR1,000 bonus based on a performance assessment and an attendance record exceeding 80 percent (comprising SAR500 if he maintains 60-80% attendance, and a further SAR500 when working hours exceed 80%).
In the Western and Southern regions
Employees receive SAR500 for 100% attendance, and a further SAR1,000 for achieving full working hours for three consecutive months.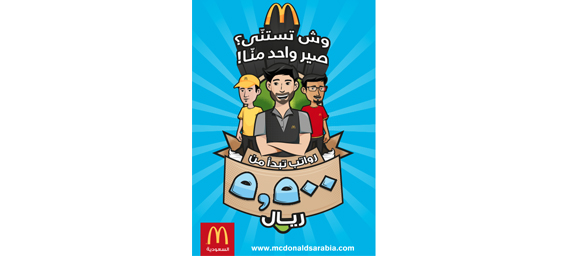 Tahadi Program: Become a manager in 11 months (SAR5,500 campaign)
A campaign to attract young people to branch management positions following intensive training. McDonald's offers the following four paths for newly appointed employees to become managers varying in terms of length and the ability of the employee:
1.'Tahadi' challenge program.
2. Normal program.
3. Flexible program.
4. Ala Keifak program.

McDonald's Saudi Arabia attaches great importance to the nationalisation of workforce, and is one of the leading Saudi companies in terms of providing solutions to reduce career stagnation and maintain its ratio of Saudi employees, becoming the main driver of the market.
We are also committed to various initiatives to attract and retain young Saudis, and to recognize their achievements. This is without forgetting people with special needs, including those affected by Down's syndrome, with programs in place to recruit and train them in suitable jobs. A shining example is Abdul Rahman Al-Ahmari, who has started his 10th year as a McDonald's crew member after being educated at Saut: The Voice of Down's Syndrome Society until he turned 18, He was recruited by McDonald's Saudi Arabia after completing an 18-month training program with the help of a nurse and a specialist trainer.
Kindly click here to apply for a job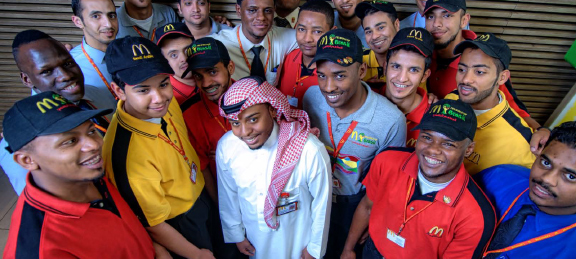 Reports
Since our launch in KSA in 1993 we have overcome many operational challenges, but retaining our young Saudis within the McDonald's family remains a present and future challenge.
In the face of such a daunting task, there have been many obstacles to reduce the rate of attrition and retain Saudi employees. To this end, over the past three years we have published an annual job localization report which has been extremely well-received by both the public and business sector, contributing greatly to McDonald's Saudi Arabia today being acknowledged as a leading example to other Saudi employers, and contributing to a quantum leap in job nationalization in the Saudi fast food industry. We have become the main engine for the growth of the sector and a key player in changing employment policies in the labor market.
These reports do not claim that we achieved all our goals and aspirations in the nationalization of jobs, but they prove that we provided solutions to some of the challenges facing the Saudi labor market and the private sector. To view the reports, click here